Paying for College
WW NDT Services understands that College is an enormous investment into your future and we strive for transparency and clarity by providing our students and parents with the information they need to make good decisions about attending and paying for college.
We want you to carefully consider your options for paying for college. Our admissions staff is here to answer your questions and assist you with making personalized payment plans. We believe it is extremely important that you are fully aware of all of your financial obligations and the impacts of the obligations before you start college.
We accept VA benefits.
Financial Information
Tuition & Equipment:
Registration Fee:
Books:
Tuition Cost:
Urine Drug Screen:
Supplies:
TOTAL PROGRAM COST:

$150
$200
$6,500
$50
$700
$7,600

Your registration fee, books and supplies are due prior to the start of the course and may be paid by:
Cash
MasterCard, Visa, and or Debit
Scholarships
Your tuition may be paid in a variety of ways:
Cash
MasterCard, Visa and or Debit Card
We are an Eligible Training Provider for the Department of Community College and Workforce Development, please speak with an admission specialist for details
Scholarships (see below for a list of eligible scholarships)
Student Loans – Most of our students obtain their own financing. In an effort to help students when other funding means are not available, we do work with a lender for student loans. The name of this company is TFC Credit Corporation. Their information is below.
TFC is a private lender that assists students attending Career Training programs such as ours. You should be advised that there is less expensive ways of financing your tuition if your credit allows. TFC charges a non-refundable $25 application fee. Co-signers are ENCOURAGED and may be necessary to obtain financing. If you have interest in applying for a TFC Student Loan speak to a WW NDT Services Weld School Admissions Specialist for further details.
Student will receive the basic equipment needed for the welding course and their career there-after.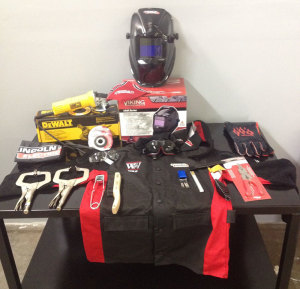 Scholarships and Other Resources
AWS Welding School Scholarship Application
Eligible Training Provider for the Department of Community College and Workforce Development