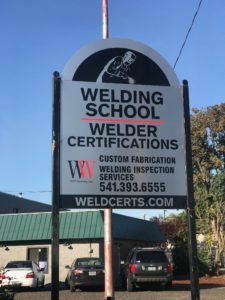 The following applies to WW NDT Services Weld School Attendees:
Where:
WW NDT Services Weld School classes are conducted at
1567 Main Street
Springfield, Oregon 97477
Who qualifies:
Anyone 18 years of age or older with a high school diploma or equivalent and seeking a career in welding.
Prospective students include:
Job-shifting adults
Returning veterans that are pursuing good paying jobs
Formerly incarcerated citizens seeking a second chance
Young adults who are not college bound but possess untapped talent
Hours:
8:00-3:30 Monday-Friday
Enrollment Dates:
Enrollment will be 15-90 days before the beginning of the preceding term. Enrollment is based on available class space.
2017-2018
SESSION
SESSION 1
SESSION 2
SESSION 3
SESSION 4

DATES OF ENROLLMENT
Oct 1st, 2017 – Dec 21st, 2017
Jan 2nd, 2018 – Mar 18th, 2018
Mar 28th, 2018 – Jun 12th, 2018
Jun 27th, 2018 – Sep 9th, 2018

DATES OF SESSION
Jan 2nd, 2018 – Mar 23rd, 2018
Apr 2nd, 2018 – Jun 22nd, 2018
Jun 25th, 2018 – Sep 14th, 2018
Sep 24th, 2018 – Dec 14th, 2018

Observed Holidays:
Spring Break, Independence Day, Thanksgiving Day & Friday, Memorial Day, Labor Day, Christmas day and New Year's Day.
Parking:
Students may use WW NDT Services parking.
**WW NDT Services Weld School reserves the right to make small changes to "Dates of Session" due to holidays